Welcome to the magnificent world of BEERCANS.

For the most people just rubbish, but for collectors real treasures.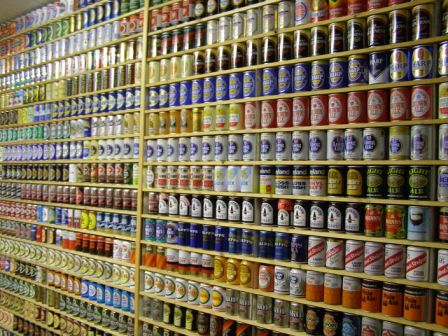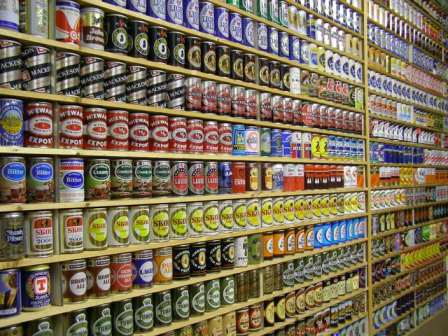 My name is Ron Heber. Living in the Netherlands and I collect 9-2/3 fl. oz. or 275 ml beer cans.
Member of:
Brewery Collectors Club of America (#26624)
One Can One Country Chapter
The day that I start collecting beer cans, I never could imagine that these beverage containers would have such an impact in my further life. It all started years ago when I made a bicycle tour with some friends. It was in the middle of the summer and ofcourse we had to stop regularly for some refreshments. I was surprised that there were so many different beercans. In that time, mid 70's, the type of cans were changing from crimped steel to drawn steel. In no time I had hundreds of cans. Not only Dutch brands but also lots of German and Belgium beer cans because I live only a few miles from these borders. After collecting a while I found a beer can collector club in the Netherlands : Blik op Blik and a few months later I became a member of the largest breweriana club of the world: Brewery Collectibles Club of America. Being a member of a collector club gives you lots of benefits like contact with other members, national and international trade-shows and advertising space in the newspaper of the clubs. At this moment I have about 15.000 beercans in my collection: all types-all sizes. At some point I had to make a decision what to do with my collection because I was out of space for new shelves. I have a magnificent wife but she don't want the whole house filled with beer cans!! So I start collecting only my favourite type of beer can: 275ml or 9-2/3 fl.oz. Later I found a book with pictures of these cans; "The Class Guide to Foreign Beer Cans volume 1 by Jeffrey C. Cameron" and since that time I try to complete my collection. But, as it is with the most collections, this is very difficult and probably impossible. There are so many different cans. Not only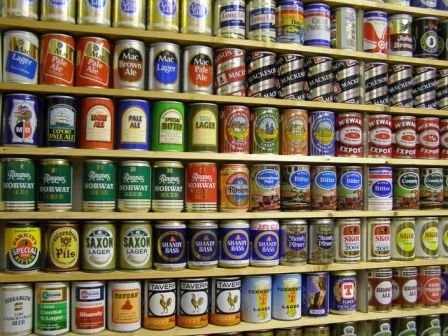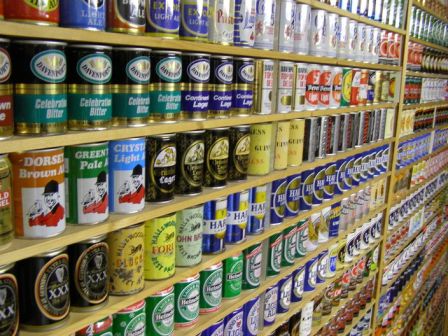 different brands but also the variations on the cans; different colours, text, canning codes etc.
The most of these cans are from the United Kingdom but the Netherlands, Jamaica, Rhodesia, Sweden, Denmark, Malta, Norway, France, Germany and Ireland also produced these cans. Sometimes you can find cans on flea-markets etcetera. But the easiest way to find new cans is at tradeshows and on the internet. And I have also lots of help from other can collectors.
The day I finished the first edition of this website in October 2009, I started with 1132 cans on the shelves.
At this moment (August 20 2019) I have listed 1592 275 ml or 9-2/3 oz cans and still finding new cans!
You will see pictures of all cans in the COLLECTION section.
Thanks to all the friends who helped me to build this collection!!!
| | |
| --- | --- |
| August 2019: a variation of Carling Black Label Lager C-18b, 2 variations of Carlsberg Imported Beer C-26c and C-26d, 2 variations of Carlsberg Danish Pilsner C-35b and C-36b, a new Carlsberg Danish Pilsner C-37, 2 variations of Carlsberg Pilsner Lager C-62a and C-64b, variation of a Carlsberg Special Brew C-81, Ceres Beer FT C-94, 2 variations of Courage Light Ale; C-150c and C-152a, Falcon Pilsner Beer FT F-3 | |
September 2019: A Badger Bright B-3b misprint, a Harp Lager H-22d misprint
October 2019: adding new cans to the "For Sale" sections; 135 440 ml cans, more than 700 different 500ml cans, almost 300 Dutch 33 cl cans, over 300 German 33 cl cans and more cans will be added the coming weeks.
November 2019: adding new cans to the "For Sale" sections; 226 different 9-2/3 fl oz Straight Steel cans, 258 different 9-2/3 fl.oz. Crimped Steel beer cans, 124 different 9-2/3 fl.oz. Drawn Steel beer cans and 20 different 9-2/3 fl.oz. Stay Tab cans. More cans will be added the coming weeks.
December 2019: adding new cans to the "For Sale" sections; 235 different "Special edition" cans. More cans will be added the coming weeks.